Brand:

LUM

Product Code:

lum003

In Stock
100% guarantee on goods sold
Delivery all over the world
Developed by trichologist
PHOTO REVIEWS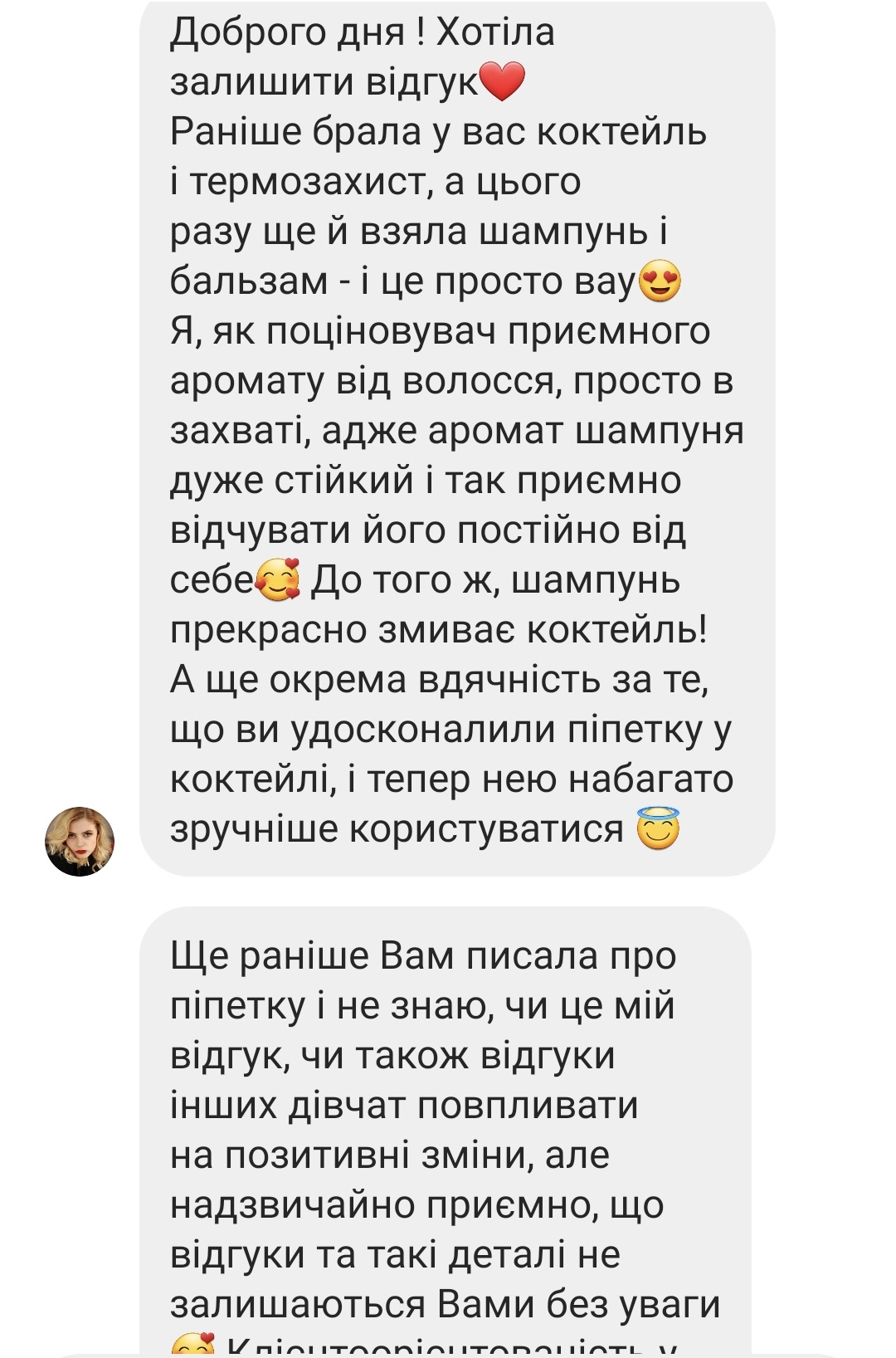 INCI:
AQUA, CETEARYL ALCOHOL, DIPALMITOYLETHYL HYDROXYETHYLMONIUM METHOSULFATE, CETEARETH-20, ARGANIA SPINOSA KERNEL OIL, SIMMONDSIA CHINENSIS (JOJOBA) SEED OIL, TRIMETHYLSILYLAMODIMETHICONE, C11-15 PARETH-5, C11-15 PARETH-9, ROSMARINUS OFFICINALIS (ROSEMARY) EXTRACT, CAMELLIA SINENSIS (GREEN TEA) LEAF EXTRACT, NIGELLA SATIVA SEED OIL, BEHENTRIMONIUM CHLORIDE, PANTHENOL, CETRIMONIUM CHLORIDE, CYCLOPENTASILOXANE, DIMETHICONOL, POLYQUATERNIUM-44, HYDROLYZED KERATIN, CAESALPINIA SPINOSA GUM, PARFUM, METHYLCHLOROISOTHIAZOLINONE, METHYL ISOTHIAZOLINONE.

The best technologists together with a trichologist, created a balsam
which effectively cares for dry hair. Biologically active complex, based on healing properties of black caraway, helps to strengthen and to improve the slack strands.
Rich composition of the product, saturated with plant and natural extracts amino acids, instantly improve hair condition, gives dazzling shine and elasticity. This multipurpose soft balsam is ideally suitable for daily care about dry and brittle curls. The balsam will return natural strength and vitality to curls.

Contraindication: individual intolerance to the components, inflammation, excessive dryness of the skin. not hypoallergenic.

How to use: apply a small amount of balsam to towel-dried hair.
Lightly massage and distribute over the entire length. Leave for 1-3 minutes and rinse thoroughly.
Doesn't contain substances harmful to health.

IMPORTANT: To achieve maximum effect, it is recommended to use LUM Balsam Black Seed Oil Power in combination with other levels of LUM hair care.
Stage I: Application of growth and anti-hair loss products:
1. LUM Cocktail for hair No. 1 - apply to the scalp.
2. LUM Moroccan Argan Oil - apply to the length of the hair. (can be applied together with LUM Cocktail for hair No. 1, left for 2 to 12 hours / overnight).
II Stage: Washing hair:
3. Wash your hair with LUM Shampoo.
4. Apply LUM Scalp Peeling to wet scalp (keep for 1 to 3 minutes, repeat once a week).
5. Wash the scalp thoroughly with running water, then use LUM Shampoo.
6. Apply LUM Balsam for 2 to 5 minutes / apply LUM Mask for 20 to 30 minutes (we use one thing during washing). Then rinse thoroughly.
III Stage: Hair drying:
7. We put on the LUM turban with the terry side against the hair to absorb excess moisture. Wait 20 minutes. Now we put on the turban with the silk side to smooth the scales of the hair cuticle. Wait another 10 minutes. If desired, put on the LUM turban immediately with the silk side down for 20 minutes.
8. Distribute LUM Protective Keratin Spray along the length and style the hair with a hair dryer or iron.

Precautions: Avoid contact with eyes and mucous membranes.
Storage conditions: at temperatures from +5°C to +25°C, away from direct sunlight
Volume: 250 ml
Shelf life: 24 months (after opening 6 months)
Made in Ukraine


Professional hair balm
Hairdressers in beauty salons and trichologists recommend including hair balm in regular care. This product allows you to restore natural strength and hair beauty and provides easy combing. Due to the correctly selected formula and ingredients, you get full hydration and nutrition from the scalp to the tips.
Wonderful properties of hair balm
This care product is known to everyone who takes care of their appearance. However, it is not enough to purchase any jar with the name "balm". If you want to see the result, then you should choose a professional hair balm with the proper ingredients. Ingredients that include plant extracts, and amino acids and suit your scalp type and hair structure.
● Seals in moisture, which is important for keeping your hair healthy and hydrated.
● Adds shine and volume to your hair, and it looks healthier and fuller.
● Increases elasticity (Prevents breakage and split ends)
● Decreases hair loss;
● Makes it easy to comb;
● Protects hair from the environment;
● Helps to reduce static.
The use of our LUM products guarantees you the expected result. And in combination with other products from our line, you will get the strands of your dreams - well-growing, healthy and shiny hair. Contact us for a consultation and we will help you to make the right choice.
How to know if this product is right for you
Before you buy a hair balm:
1. Make sure it doesn't contain allergens.
2. Read what type of scalp and hair the product is intended for. Using the wrong formula can have the opposite effect.
3. Pay attention to the recommendations, and evaluate whether you can follow them.
4. Please note the manufacturer's notes.
5. Take care of using complex hair care from one line, so you will achieve maximum results.
A good hair balm will never be very cheap, but being overpriced is not a guarantee of exceptional effectiveness. It is important to rely on the professionalism of the manufacturer and the recommendations of proven hairdressers.
We have already done all this for you! Please take into account scientific developments, years of training, and practice, we have selected the very ideal set of ingredients that work with hair in the best possible way. LUM products are the result of many years of practice and effective teamwork.
Balm LUM BALSAM BLACK SEED OIL POWER
This is an effective professional hair balm designed for dry and damaged hair structures. Actively moisturizes and normalizes, and nourishes. At the same time, it acts very gently, as if adjusting to the characteristics of the cells. Requires using every hair wash, but it is spent economically.
How to use:
1. After rinsing off the LUM shampoo, apply a small amount of hair balm to your damp hair, starting slightly away from the roots and working your way down to the ends. It should be distributed evenly so that each strand gets its share of the "nutritional composition".
2. It is better to rinse off without diligent friction and "squeezing". But make sure that all cosmetics are rinsed off.
3. Dry your hair gently with a towel.
4. For the best effect, after 20 minutes, you can consolidate the result with indelible compositions, and sprays from LUM.
5. At the end, dry your hair with a hair dryer on warm air and style.
This is a simple hair care routine, you can add nourishing oil and masks to this list. And after a short time, even the owners of beautiful natural hair can envy your hair.
Why LUM?
We know all the secrets of the perfect hair balm, and we have used this knowledge in the creation of this product. Just order and try it yourself. You will see that it is effective and works in real life as shown in the advertising of hair cosmetics. We are responsible for the result and guarantee the effectiveness of the products that we offer.
continue;